A fry cone offers you the unique opportunity to communicate
  for 10 minutes with you customer
About our custom printed fry cones
Custom printed fry cones offer an unique opportunity to communicate with you quests or customers. Communicate during your wedding, birthday, product promotions, jubilees, etc. by creating an appealing, eye catching paper cone.  Or communicate you brand identity with you customers by printing your logo or brand slogan on your food cone. The way to serve your fries or other finger food in your corporate identity. 
Let us know what your individual print should look like and within 5-10 working days after your approval of the proof, you will have your own, customized fry cones. We will print French fry paper cones from 75 pcs. and up, at any size of your choice.
Our French fry cone paper
All our paper cones are made of 100 g/m2 greaseproof FSC-certified paper. Which means that you don't have problems with stains from the greasy oil or burning your hands. We offer two types of paper, unbleached BIO brown paper or bleached white paper. 
Design assistance?                                            
Do you need help designing your own custom printed paper cones? No problem. Our experienced designers are happy to help you with tips and many good ideas.  Often at no extra cost.
Interested?
Please contact us with the information requested below and we will gladly and promptly provide you with a quotation on personalized french fry paper cones.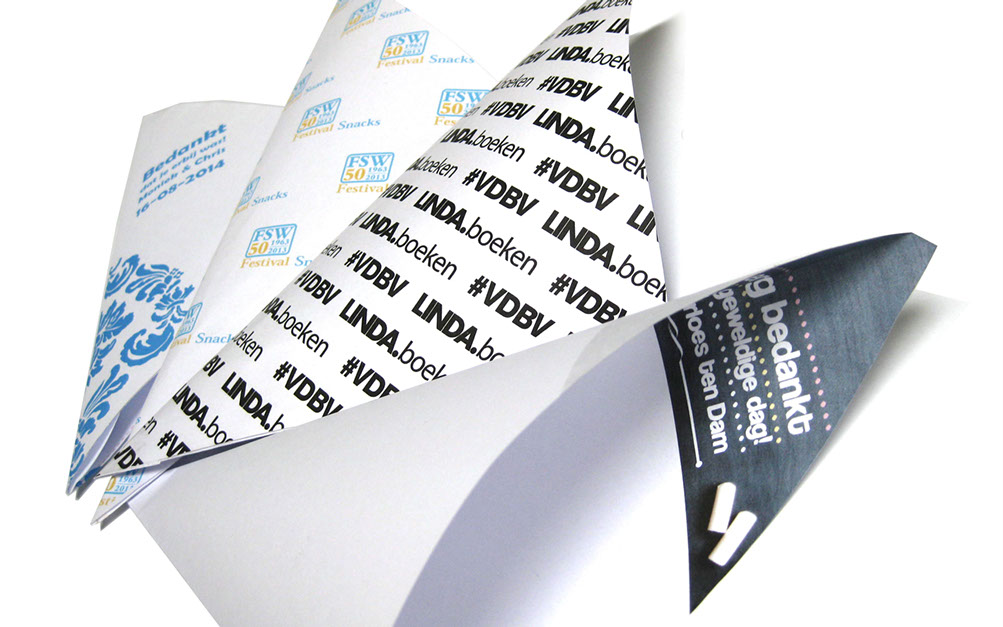 Request for quotation form