Description
Eating fries is best done with your fingers, from a cone-shaped, paper bag! Our French Fry paper cone holder is the latest trend in restaurants that combine quality with conviviality.
Size: the elegant fry server has a height of 17 cm and has been developed exclusively for our Dutch french fry paper cones. The fry cone holder is manufactured from high-quality stainless steel. Good for many years of french fry eating fun.
Our french fry cone holder can hold french-fry-paper-cones from small (width openside 17 cm) up to large (width openside 26 cm).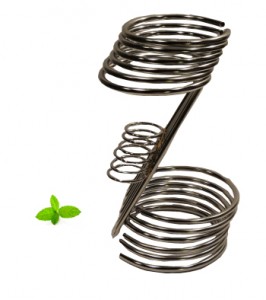 The paper cone servers are stackable
And you can use the holder for many other things besides serving Fries. You will be amazed by your own creativity in finding new applications.
Other ideas: the presentation of bread sticks, crisps, peanuts, popcorn, etc. Or use it as a table bin for egg peels, bones, etc.
Keep your plate free from litter!
Going Dutch!